BeMyVoice - A text-to-speech solution for people with speaking disabilities

At Number42, we do not only create software for clients. Sometimes, when we see potential in solving a problem, we come up with ideas and solutions ourselves. An example for this is a recent project by our working student Alexander who developed a text-to-speech app for Augmentative and Alternative Communication (AAC) for the use by people with speaking disabilities. He realized the project as part of his Bachelor Thesis at University of Regensburg. We asked Alexander a few questions about the design and development process and his thoughts behind the app.
How did you come up with the idea of developing an AAC app?
The first time I got in contact with people using AAC communication aids was during my federal voluntary service prior to my studies. I worked in a sheltered workshop for one year and met many people using AAC devices to communicate. However, I noticed the software these devices were running was very outdated and hard to use. Three years later, when I brainstormed a topic for my Bachelor Thesis I thought back at this time and thought it would be a great project. Luckily, the Chair of Information Systems III at University of Regensburg and Number42 agreed on participating in this project and development started in autumn of 2019.
How does an AAC communication aid work?
AAC stands for Augmentative and Alternative Communication and describes a category of tools used to either supplement or completely replace speech. AAC communication aids can be as simple as so-called "Talking Buttons". These are simple physical buttons that play a previously recorded sentence when pressed. More complex AAC communication aids like BeMyVoice are tablet apps that present the user a grid of pictograms. If the user then taps on a pictogram, a synthetic computer voice speaks a word or sentence. For instance, a button that shows a pictogram of a smiling face could speak "I am happy today!" when tapped.
What is unique about BeMyVoice that other AAC apps don't provide?
There's a range of AAC apps available. However, many of them seem a bit out of date. Most of them don't seem to use the potential of modern tablet operating systems and frameworks. Also, many of the apps I tried were hard to use and did not have a particularly good user experience. In retrospect probably most importantly, nearly all the apps are really expensive, with prices ranging from 300 to 1000 Euros. The hard truth is that health insurances in most countries do not cover the cost of these apps. Consequently, there needs to be a high-quality solution for people who just can't afford that price. One thing that also really struck me was that many apps only support pictograms with white skin color in their included pictogram libraries. I imagined this could be particularly frustrating for people of color. The goal of AAC apps should be inclusion after all.
How could the expertise of Number42 help you with your project?
First of all, it was incredibly helpful to be able to use the iOS software development stack of my company. This meant that I could base my work on a sophisticated and practice-proven architecture and dependency infrastructure. Furthermore, the experience of my co-workers helped me when I encountered technical challenges. Also, luckily, a co-worker found the time to review my code and give suggestions for optimizing the code quality.
What does the future hold for BeMyVoice?
There's so much that can be done, the possibilities are nearly endless. Currently I'm spending weekends sketching new ideas on my iPad. After improving some things under the hood like testing and logging, I will develop new features, ranging from the possibility to create multiple speaking boards to the support of open board exchange formats like OpenBoardFormat that allow users to import boards they previously used in other apps or export boards to edit and use them with alternative apps. Being open and accessible is one of the key cornerstones of BeMyVoice, that's also why the app is free and will soon be open source.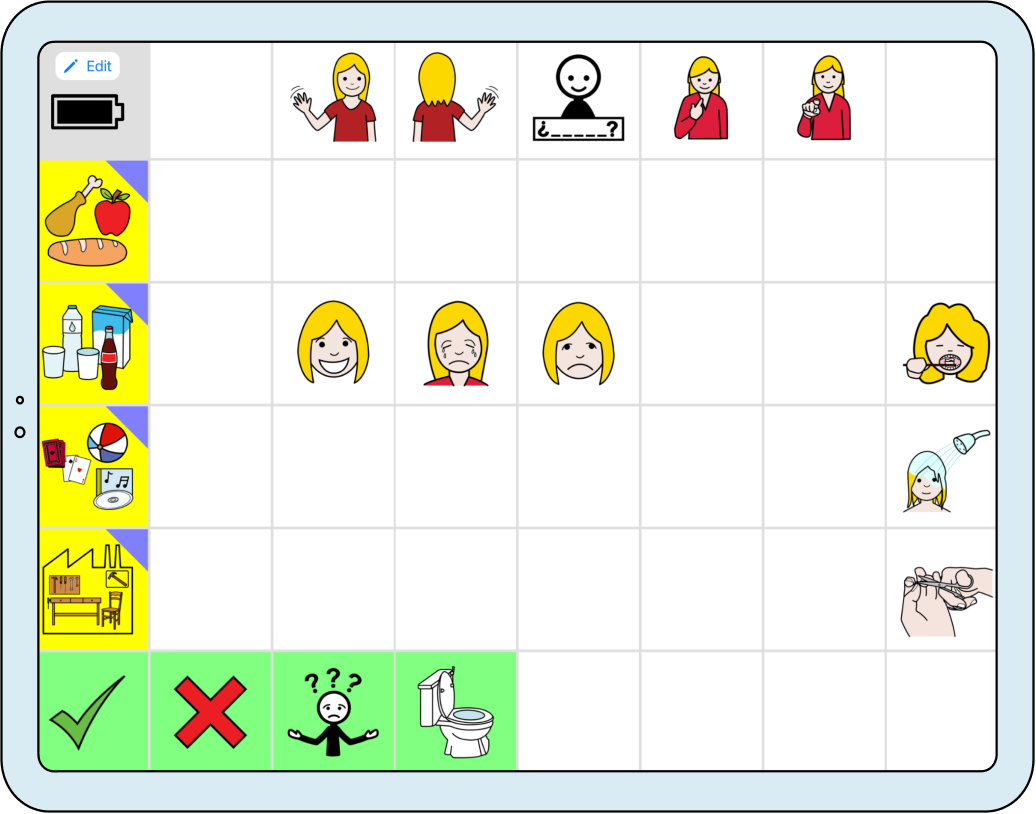 be my voice board
Since its release Alexanders app has been downloaded frequently and reached the top 200 app store charts in the medical category in multiple countries. You can learn more about BeMyVoice on its website and stay updated about news by following its Twitter channel